Marquees, Wedding Marquees & Tent Hire East London & Essex
When you are planning anything from a wedding reception to a family party, finding the right venue is a key part of organising a successful event. Whatever the occasion, marquee hire in Essex from A Fordable Leisure could provide you with the ideal location for your event; enabling you to enjoy as much space as you need with the freedom to finish your marquee with the furnishings you want. Creating the perfect setting for an extra special occasion can be simple and affordable with our help.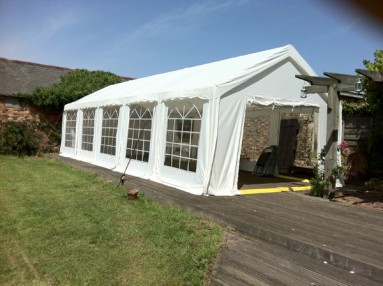 We have a range of standard size marquees available to choose from, but we can also join marquees together to create a space which is exactly the right size for your event. Whatever your plans, we will have a marquee to match your requirements.
---
Choose from the following sizes:
3m Width
3m wide x 4m long
3m wide x 6m long
3m wide x 8m long
3m wide x 10m long
3m wide x 12m long
4m Width
4m wide x 4m long
4m wide x 6m long
4m wide x 8m long
4m wide x 10m long
4m wide x 12m long
4m wide x 14m long
4m wide x 16m long
4m wide x 18m long
6m Width
6m wide x 6m long
6m wide x 8m long
6m wide x 10m long
6m wide x 12m long
6m wide x 14m long
6m wide x 16m long
6m wide x 18m long
6m wide x 20m long
6m wide x 22m long
6m wide x 24m long
Marquee Hire
If you haven't organised a similar event before, or are unfamiliar with marquees, it can be difficult to decide which size will be best for your needs. With this in mind, we are pleased to offer free site surveys to assess the location for your marquee, and to enable our team to advise you as to the best option from our range of marquees.
For more information about marquee hire please contact our expert team today to begin your enquiry.
ENQUIRE TODAY